Oh yes, we're talking Chocolate Custard today! We have yet to meet anyone who doesnt like this rich, creamy, and elegant treat! We make ours KETO//OS® NAT™ Swiss Cacao, this chocolate custard is a great way to get your chocolate AND ketone fix!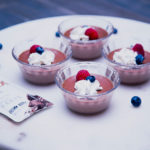 Chocolate Custard
½ cup sugar-free dark chocolate chips
2 cups heavy whipping cream
1 package of KETO//OS® NAT™ Swiss Cacao
½ tsp. Vanilla
¼ tsp. Cinnamon
3 eggs
Pinch of sea salt
Instructions:
1. In a saucepan, heat heavy cream over medium heat until small bubbles form around the edge of the pan.
2. Whisk in KETO//OS® NAT™ Swiss Cacao until blended.
3. Remove from heat and add chocolate, Vanilla, Cinnamon, and salt. Stir until chocolate is melted.
4. In a separate bowl, whisk together eggs.
5. Slowly drizzle heated chocolate mixture into eggs while constantly whisking.
a. you don't want to end up with pieces of cooked egg!
6. Divide custard into 6, 4oz. ramekins and place in a large baking dish.
7. Put a pot of water on the stove on medium heat and bring it to a simmer.
8. Carefully pour simmering water in baking dish until water on the outside of the ramekins is equal to the custard on the inside of the ramekin.
Make sure you don't get water inside the ramekins.
9. Bake at 325 for 30 minutes, or until set around the edges and slightly jiggly in the center.
10. Serve warm or cold.
Optional- Garnish with whipped heavy cream and fresh berries.
With Mother's Day on the horizon, we think you should make this for Mom! 😉 When you do, snap a photo, tag us @justpruvit #ketocooking! Share to your Pinterest so everyone can make this for Mom!!